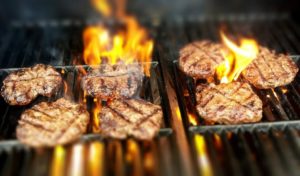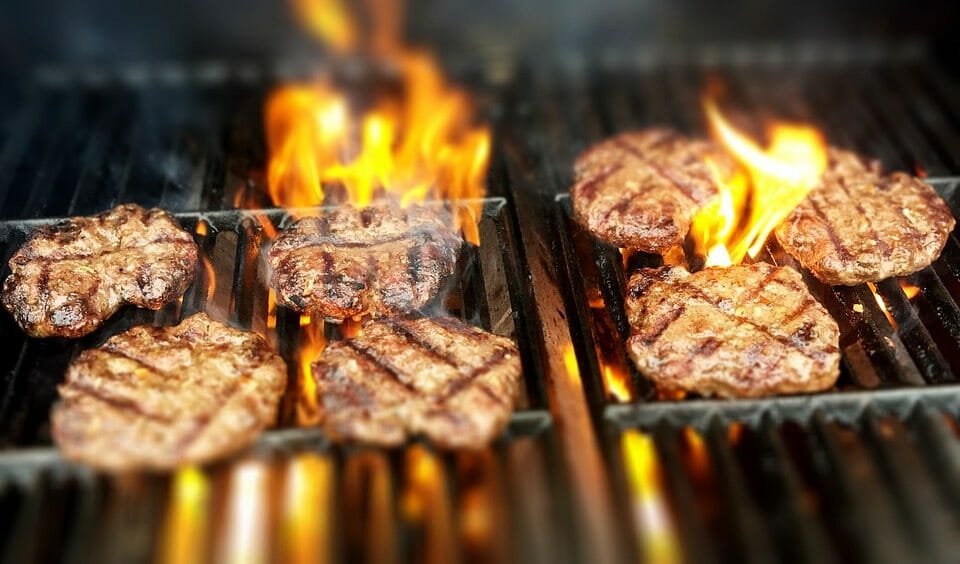 Fire pits aren't used strictly for their visual appeal; they can also be used for cooking. And with summer right around the corner, there's no better time than the present to get outside and grill. However, there are a few things you should know about cooking on a fire pit.
Keep Your Grate Oiled
Try to get into the habit of oiling your cooking grate each time you use it.  Treat your grate just like cast iron.  We make a habit of spraying or brushing the cooking grate before each time we cook on it.  You don't need to clean it with soap or water either, just use a grill brush and oil it.
Also, don't leave your cooking grate outside in the elements.  Put it in a covered area once you are done cooking.  The more you cook on your cooking grate the more seasoned it will become.
Control Your Fire
Always start your fire early when you plan to cook over the pit.  We recommend starting a good sized fire 1 1/2 – 2 hours before you cook.  This will allow for you to get a good bed of coals in your fire pit.  Then depending on what you are cooking will determine the amount of heat you need.  For example if cooking 1/4 chickens or wings you want to cook those slow and low.

This will allow you to build up the crust as well as cook the inside of the chicken.  If you put chicken on a hot grill you will do nothing but burn the skin leaving the inside raw.  When cooking steaks bring the temp up depending on how thick and what desired internal temperature you want.  One last tip is try and find or if you have an old Weber lid, you can drop that right on top of your cooking grate to work just like a covered grill.
Experiment with Different Wood Varieties
Don't underestimate the importance of using the right wood when cooking on a fire pit. There are several different varieties of wood that can be used when cooking on a fire pit, each of which has its own unique characteristics. Hickory, for instance, is a hot, slow-burning variety that produces a strong and sweet flavor. These characteristics make it ideal for cooking and smoking ribs or pork tenderloins. Oak is another popular choice, also burning slow and hot while producing medium flavor.
Regardless of which wood you use, make sure it is NOT Pine or pressure-treated Pine. Pressure-treated lumber contains harsh chemicals and toxins that could seep into your food.
If you have any questions regarding  how an S&S Fire Pit can enhance your outdoor living space; We can help.  https://ssfirepits.com/contact/