Fire Pit FAQ's
The Construction of Our Fire Pits
Our pits are made using approximately 1/4″ thick gauge steel bowls.  These bowls are repurposed from the tank industry and are tough as nails.
Being thick gauge steel, they are ideal for our purpose.  We use roughly 80% recycled, re-purposed and or reclaimed products when crafting these pits. The pits are completely welded together as are our handcrafted line of accessories.   The life expectancy of our fire pits are likely longer than you or I so put it in the will for the kids or grand kids.
Why is it the last fire pit you will ever buy?
Due to the gauge of the steel we use, our fire pits will last a lifetime. The metal does not get soft when burning fires and they are far superior to what you see off the shelf in any big box store.
Why are our fire pits better than building a stone fire pit or a cast iron pit?
Steel will heat up very even and radiate beautifully, whereas stone does not heat up even nor does it radiate evenly, you will find yourself huddling by the stone pit just to stay warm.  Also, iron pits such as syrup kettles will crack when the heat gets too much. Our pits are also very cost effective compared to building a true stone masonry pit or purchasing an iron syrup kettle. Finally, you get to take our pit with you when you move or if someone else is having a party, take it over there.
Will my fire pit get hot?
Yes, steel when heated absorbs and radiates heat which is the beauty of owning a steel fire pit, but yes please do not touch your fire pit when having fires in it.
Do I need a barrier under my fire pit?
Yes, we highly recommend a barrier between the base and the surface you are placing your pit on, not only for the radiant heat which mostly travels out and up, but to control little embers and markings from the base.  Concrete pavers, flagstone, or possibly a fire pit mat, (we have not tested any fire pit mats)  will work under your pit.  This is the safest way to minimize any heat or markings from the base.   Although, the bases of our fire pits are not reaching the burn point of wood, which is roughly 451 degrees, it is better to be safe when it comes to radiant heat.   Synthetic decks also need a barrier between the pit and the deck.  If you choose to put your fire pit on your wood or synthetic deck we recommend an open base pit, one with legs not a solid closed base.  This will allow less metal to make contact with the barrier and more air flow below the fire pit.  We have not tested our pits on a synthetic deck and we want you to know that you are on your own there.  A nice recessed cutout in your deck where your firepit will live using stone or pavers recessed flush with your deck boards is a great idea as well or we have been told, but not tested, that this product works and is backed up by Trex, https://deckprotect.net/  https://deckprotectstore.com/ This way the legs are not making contact with any deck boards at all.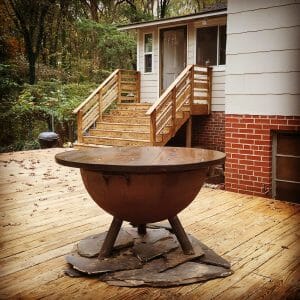 Please use your best judgement when placing your Fire Pit on your deck.  S&S Fire Pits takes no responsibilities for your actions and we take no responsibilities for any damages that may occur from your actions.
Can I put my fire pit on the grass?
Yes, but again, we recommend a barrier between the fire pit and the grass.  The radiant heat from the fire pit will dry out grass the first fire you have.  If you do not have the drain plug in then you run the risk of pushing hot ash through the drain hole.  So, a good barrier for grass would be crushed rock, concrete pavers, flagstone or any other natural or solid fire resistant material.
Why should I get a fire pit snuffer?
Snuffers are a cheap insurance policy. They will suffocate a fire in roughly 10 minutes, allowing you to go to bed without worrying and save you time from trying to put the fire out with water, which is not a good idea.  Furthermore, it's not a great idea to leave wet ashes in your fire pit. Wet ash turns into lye and lye is a chemical that reacts with steel. Our pits are too thick to worry about, but we do not recommend leaving wet ashes at all in your fire pit ever. Our snuffer lids are the next best thing we sell next to our fire pits.
Will my fire pit or snuffer rust? 
Yes, all steel will oxidize, therefore causing rust, the surface rust will actually work like a barrier to protect the thick gauge steel we work with.
The oxidation process is a natural process which is controlled by the environment in which it is in.
By using thick gauge steel, we slow the process down significantly.  You may choose to paint your fire pit or snuffer with a high temp paint which will form a bonding layer between the steel and the outside elements, but you may find yourself doing this once a year.  Otherwise, you can choose to let the natural process occur and simply leave it alone.  Once all the raw steel has a coating on it the process slows down and then the pits tend to darken up over time.
Will my fire pit change colors?
Yes, raw steel oxidizes and reacts with the oxygen in the air causing the steel to go through a few color shifts, eventually ending up a nice rustic patina color.  The images below approximately represent 0-6 months, 6-12 months, and then 12 months on.  Color shifts  and times will vary depending on the environment you are in, but they age beautifully and just get better looking over time. 
Can I bury my fire pit in the ground?
We do not at all ever recommend putting one of our fire pits or any fire pit in the ground.   For one, the pure aesthetic of sitting around an nice fire pit and being able to see the fire in a comfortable view versus the fire in the ground is more functional and appealing.  Secondly, they become super dangerous, if someone were to fall, that's a problem.  Thirdly, you lose a lot of your nice radiant heat from the steel when you put them in the ground.  The earth works like a heat sink and the beauty of a nice thick steel pit is the radiant heat that they put off.
Can I leave my cooking

gr

ate

outside?
No, we do not recommend leaving your cooking grate outside in the elements.  When not using them please store or hang them inside the garage, shed or somewhere out of the elements.  We recommend spraying your cooking grate with cooking oil and treat them just like cast iron.  No need to wash them.  Just hit them with a grill brush and keep them greasy.  Over time they will season up.
When should I place my cooking grate on the pit for cooking?
When cooking over open fire we recommend starting your fire 1 – 1 1/2 hours early.  Get a good bed of coals in the pit and spread them out with the poker.  Depending on what you are cooking get your coals to the desired temperature.  At that point drop your cooking grate over the fire and go to town.  Do not put your cooking grate on a super high flame fire.  Even a tough cooking grate could bow with extreme heat.  Only put the grate on the fire when your coals are where you want them to be.  A good tip: A charcoal grill lid works really well on our pits so you can do things like slow cook, smoke food, cook pizza on a pizza stone or our favorite smoke oysters.
Can I leave my fire pit outside all year long?
Yes, absolutely, our pits are made to take the elements.  Being thick gauge they'll be just fine outside.  Make sure you get a snuffer lid and keep that on there.
Can I use my Rainproof cover without a Snuffer Lid?
No, the rainproof covers are designed to go over your snuffer lid once the fire pit cools down.  The snuffer lid is very important and the rainproof cover keeps all the water from making direct contact with the lid.  Without the lid, the cover will just cave into the fire pit when it rains.
How to take care of your Fire Pit Screen.
Your screen is made to last and to withstand the elements, but there are a few things you don't want to do.
Use your screen under normal use. Do not put your screen over a large Bonfire type of fire.  If you consistently are burning large fires through the screen, then you will eventually wear out the metal.  The screens are designed to catch sparks, not large flame.
Use and source quality firewood that will not produce a ton of spark. Kiln dried firewood is the best you can purchase.
No chemicals. Do not squirt any chemicals such as lighter fluid through your screen.  Chemicals can cause the metal to get thin and eventually fail.
Do not cover your screen. You do not want to trap moisture inside of a cover and your screen.  Moisture if trapped will eventually rust the screen and if you leave it covered for a long period of time it could rust through the screen. Do not use a tarp or other type of cover.  You should be taking your screen off at the end of the night and placing your snuffer lid over the pit to ensure the fire is out and to make sure no water is getting into the pit.  Wet ash turns into lye and lye is a corrosive chemical that reacts with metal.
Paint your screen from time to time with a high temperature paint.  Depending on how much you use it, this will also help to protect your investment in a quality screen
How and when do you ship your products?  
All fire pits ship Residential LTL freight with a Lift Gate Service on a 40 lb pallet.  The carrier when they arrive at your home will lower the pallet and using a pallet jack drop your freight as close to the front of your home as possible.  Feel free to watch our handy shipping video in our video section.  As well , please visit our contact page for current lead times to get your products out the door.  Any accessories you purchased will be attached to the fire pit as well.  Don't forget to get your paperwork and any items that are attached to the pallet like your fire poker.  Your drain plug is in the bag with your paperwork or inside your pit under the snuffer lid.  The carrier will contact you once the freight  gets there to set an appointment for all residential shipments.   Once you add your products to the shopping cart you can view the cart to see all costs including shipping.   All accessories purchased by themselves will ship separately via UPS or FEDEX ground and you will have standard tracking.
Our online shipping rates are for the Continental United States. Alaska and Hawaii  as well as Any "Hard to Get To" locations such as islands, mountain homes, lake-houses or generally any location deemed hard to get to by the shipping carrier may incur additional shipping fees.  In the case this happens we will contact you.
PLEASE WATCH OUR HANDY SHIPPING VIDEO FOR MORE DETAILS.
Can I exchange my fire pit?
We allow you to exchange if you want to upgrade. No going down. Once we check out your fire pit we will come up with a trade in credit which can be applied to a new fire pit.  You are responsible for getting the fire pit back to us.
What does my fire pit come with?
All pits come with one of our handcrafted 46"standard pokers and a drain plug for the 1/2″ drain hole which is nothing more than a 3/8″ x 1″ carriage bolt which can be purchased at any hardware store.
What are your Hours?
M-F 9-5, Saturday 9-2 and Sunday closed. You can see all our contact information here.  Our address is 2411 Sullivan Road, Unit B, College Park 30337.
How can I pay for my fire pit?
We accept all major credit cards or checks.
How do refunds work?
We will gladly refund you for your product once we receive it back.  We do not pay to ship products back unless they are damaged.  Thanks.
Do you have gift certificates?
Yes, we do and can create one for any dollar amount.  Please call us and we will take your payment over the phone and email you a gift certificate that you can then print out or forward on.