Description
PLEASE VISIT OUR CONTACT PAGE FOR OUR CURRENT LEAD TIMES ON ALL ORDERS!
Actual Dimensions
70lbs
30″ x 30″ x 17″ (approximate finished height)
9″ deep bowl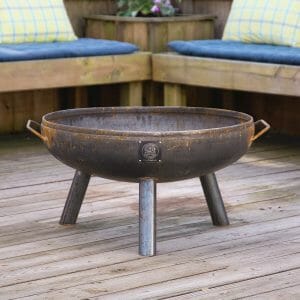 Fire pits ship on a 40lb pallet – We Generally ship out within 3-5 business days!
This 30 inch elliptical fire pit with its solid tripod base system sits at a comfortable 17" off the ground and is a great entry-level fire pit. This fire pit easily services 2-5 people comfortably.  So, get the wife, the kids, and the neighbors, and plan on staying around the pit for a good night of fun and relaxation.
Being made with all American-made steel and handcrafted in the good ole USA, this fire pit is a great investment for years to come.  The bowl is roughly ¼" thick, it has a ½" drain hole to keep the rain and elements out and the handles are forged solid steel, so they won't be breaking or coming off ever!  No need to ever worry about storing your fire pit out of the elements because when you buy thick gauge steel you're buying into longevity.  No need to worry about painting your 30″ elliptical fire pit either you can just let the pit oxidize and form a beautiful outside patina.  Over time the steel will darken up and look better than the day you got it.
Weighing in at 70lbs this fire pit is also a great companion for those weekend camping trips.  It's easy to handle and can cook a mean burger or steak on one of our cooking grates.
This 30" elliptical fire pit also comes with a custom-made 46" standard fire poker.  With a poker that long, you can be that person who doesn't even get out of the chair to stoke the fire.  We all know someone like that.  Don't forget to check out our other fire tools and decorative pokers as well.  Or if you think the 30″ elliptical fire pit on legs is just not going to be big enough then check our 36″ and 42″ fire pits.  Otherwise, call your buddies, sit back, grab a cold one and enjoy this 30" elliptical fire pit!