Description
PLEASE VISIT OUR CONTACT PAGE FOR OUR CURRENT LEAD TIMES ON ALL ORDERS!
ADD YOUR PRODUCTS TO THE SHOPPING CART AND CLICK VIEW CART TO SEE ALL COSTS INCLUDING SHIPPING!
All Fire pits come with a 46" standard poker!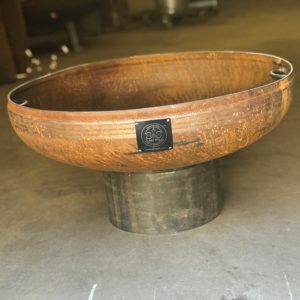 Actual Dimensions
70lbs
30″ x 30″ x 14″ (approximate finished height)
9″ deep bowl / 12″ base
Fire pits ship on a 40lb pallet – We Generally ship out within 3-5 business days!
Small, mighty and extremely portable, this 30 inch round fire pit features a ½" drain hole and inside handles that makes it an easy lift, even if you haven't been hitting the gym.  The handles are hand-made from re-purposed truck springs, so all the parts we use are from things we once loved and are extremely strong insuring that your fire pit won't fall apart after one season.  A 46" standard poker is also included, so once you find a place near the fire, you won't have to move, you'll be that person that can't leave the fire alone.
Thinking of a great gift for someone, birthday, housewarming or wedding?  Skip the wedding registry, and give newlyweds a gift that will last forever or surprise Dad for Father's Day.  It's a perfect gift for anyone for any occasion.  We highly recommend one.  It'll make the other gifts cry.
Fire is a natural stimulant, so rekindle your romance in your own backyard.  Make it a date night.  Our short fire pit, a pack a graham crackers, marshmallows, and chocolate will likely bring peace to the world; it'll do wonders for you.  There's not a lot s'mores won't heal.  Add in a nice bottle of wine or a glass of bourbon and who knows what will happen.
If your romance is already in full swing, this pit is a great way to encourage cooking with the children or neighbors.  Small and low to the ground – just like the kids – it's the perfect height for grilling hot dogs and hobo packs over an open flame. Our products are designed to last a lifetime, so, unlike the rest of us, these pits only get better with age.  Don't forget the snuffer and cooking grate to complete the entire package.