Custom Steel Fire Pit Insert
-
Own a built-in Stone Fire pit? Struggling to get a fire going on the flat bottom or disappointed with the lack of radiant heat? Let us customize our steel pits to drop into your existing Stone Pit. No flat bottom and steel radiate beautiful heat.
More about Custom Steel Fire Pit Insert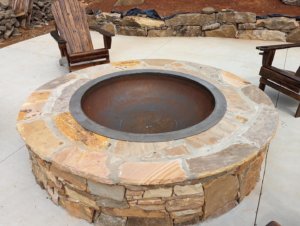 Our inserts for fire pits are made using the same steel bowls as our standalone fire pits.  We add a custom steel lip to the top of our pits which provides a solid seamless base for the pit to rest on the stone.  We also put a round base on the bottom of the pit so if you ever wanted to take it out, you have a free-standing fire pit, just in case you ever move, you can take it with you.
Don't forget the snuffer lid, we can custom-make one to fit right on top of your new steel insert.  The Snuffer lids are very import.  Not only can you put the fire out at night before going in, but they keep the water off your ashes.  Read up about Snuffer lids here.
Call or email us with your dimensions and we'll create a custom quote for you.
You may also like…
36″ Elliptical Short Fire Pit on Flanged Base

$

795.00

PLEASE VISIT OUR

CONTACT PAGE

FOR OUR CURRENT LEAD TIMES ON ALL ORDERS! All Fire pits come with a

46" standard poker!

DON'T FORGET THE SNUFFER LIDS!  THEY ARE VERY IMPORTANT FOR KEEPING YOUR FIRE PIT DRY AND EASY TO USE.

Actual Dimensions 104 lbs 36" x 36" x 15.5" (approximate finished height) 11" deep bowl / 22" base

Fire pits ship on a 40lb pallet - We Generally ship out within 3-5 business days!

This handcrafted 36"

elliptical short Fire Pit on flanged base

sits approximately 15 1/2"off the ground. This pit is all welded; it has a flanged base, re-purposed truck springs for handles on the inside, has a 1⁄2" drain hole to keep water out and comes with a free

handcrafted 46" Fire Poker

. This Fire Pit is designed to easily service 2-15 people at any gathering. All of our fire pits are made using high quality carbon steel.  Carbon steel is designed to oxidize and change colors over time.  You can see a chart of the color shifts here,

https://ssfirepits.com/faq/

.  All fire pits will take on their own character and your fire pit may come with a patina already started.  Over time they will darken up.  You can see some customer submitted photos of fire pits that have stood the test of time in our customer photo gallery,

https://ssfirepits.com/gallery/

-

Add to cart

30" Elliptical Fire Pit on Legs

$

495.00

PLEASE VISIT OUR

CONTACT PAGE

FOR OUR CURRENT LEAD TIMES ON ALL ORDERS! All Fire pits come with a

46" standard poker!

DON'T FORGET THE SNUFFER LIDS!  THEY ARE VERY IMPORTANT FOR KEEPING YOUR FIRE PIT DRY AND EASY TO USE.

Actual Dimensions 70lbs 30" x 30" x 17" (approximate finished height) 9" deep bowl

Fire pits ship on a 40lb pallet - We Generally ship out within 3-5 business days!

Sitting approximately 17" off the ground, the 30" Elliptical Fire Pit on Legs is completely hand-welded by expert craftsmen – craftsmen who understand the importance of a good backyard fire. The tripod base system will insure stability and the thick gauge steel will not only last, but the radiant heat you'll get from it, will warm you and everyone around you. All of our fire pits are made using high quality carbon steel.  Carbon steel is designed to oxidize and change colors over time.  You can see a chart of the color shifts here,

https://ssfirepits.com/faq/

.  All fire pits will take on their own character and your fire pit may come with a patina already started.  Over time they will darken up.  You can see some customer submitted photos of fire pits that have stood the test of time in our customer photo gallery,

https://ssfirepits.com/gallery/

-

Add to cart

30" Hemisphere Fire Pit on Legs

$

600.00

PLEASE VISIT OUR

CONTACT PAGE

FOR OUR CURRENT LEAD TIMES ON ALL ORDERS! All Fire pits come with a

46" standard poker!

DON'T FORGET THE SNUFFER LIDS!  THEY ARE VERY IMPORTANT FOR KEEPING YOUR FIRE PIT DRY AND EASY TO USE.

Actual Dimensions 76lbs 30" x 30" x 22" (approximate finished height) 15" deep bowl

Fire pits ship on a 40lb pallet - We Generally ship out within 3-5 business days!

For those that don't have the space for a wider fire pit but want a bigger fire; step up into this handcrafted 30" Hemisphere Fire Pit on Legs which sits approximately 22" off the ground. This fire pit is all hand-welded; it has a tripod legs system for a base, custom hand forged handles, has a 1⁄2" drain hole to keep water out and comes with a free

handcrafted 46" Fire Poker

. This Fire Pit is designed to easily service 2-10 people at any gathering. All of our fire pits are made using high quality carbon steel.  Carbon steel is designed to oxidize and change colors over time.  You can see a chart of the color shifts here,

https://ssfirepits.com/faq/

.  All fire pits will take on their own character and your fire pit may come with a patina already started.  Over time they will darken up, you can see some customer submitted photos of fire pits that have stood the test of time in our customer photo gallery,

https://ssfirepits.com/gallery/

-

Add to cart