Our fire pits are an attractive and fun addition to any backyard or patio. Choosing the ideal method of ignition, however, involves some careful consideration. Gas and wood are two of the most popular fire pit choices. Below, we will explain the differences between them to help you make a more informed decision on which might be better suited for your outdoor area.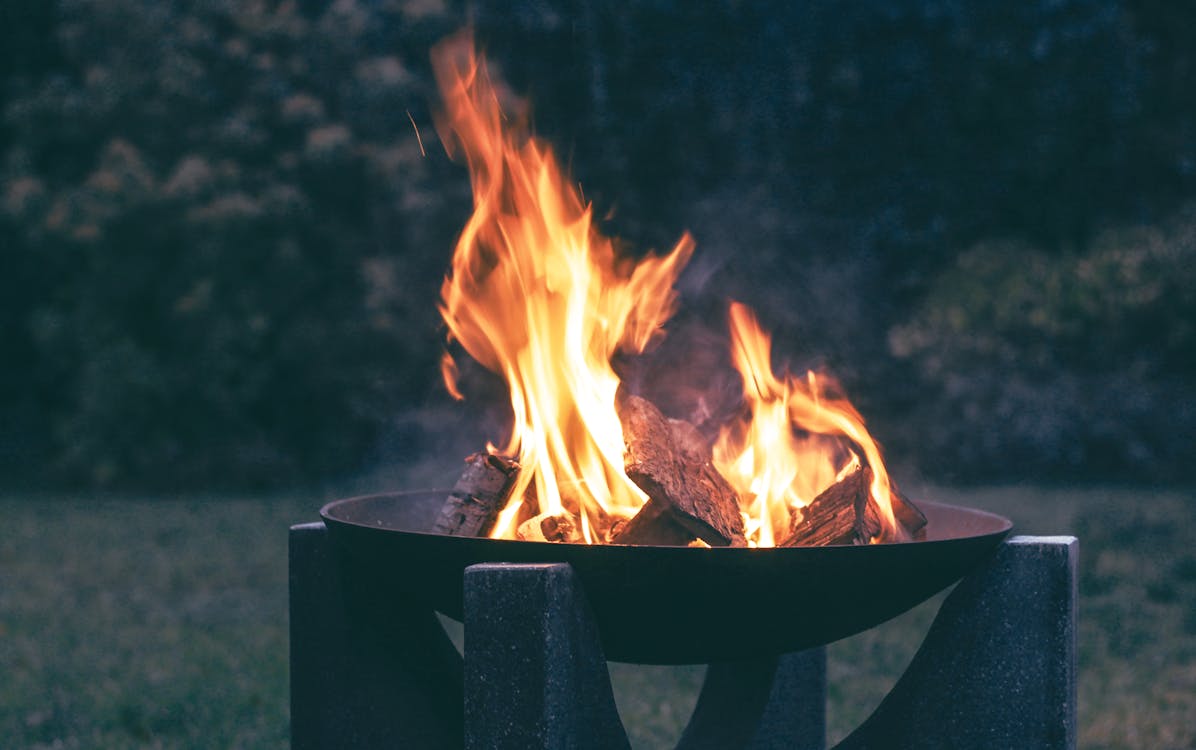 Fuel and Storage 
Gas fire pits work with liquid propane or natural gas, while wood fire pits require the use of dry wood. Due to having to hold large logs, wood fire pits tend to be larger than gas fire pits. However, with our gas log sets, you can convert a variety of sizes of our fire pits into gas burning. 
Storage is also something to keep in mind. Wood fireplaces need a spot to hold all of the wood. You have to ensure that it stays dry, and it must be away from the home because wood can hold termites. On the other hand, gas fire pits require a storage tank for the gas it needs to run. Companies provide containers from 15 to 100 gallons. Keep in mind that this tank is not going to be anything fancy, so consider a patio design that will hide it. 
Time Needed 
A gas fire pit is much more efficient at lighting and providing continuous heat. There is generally just a button that needs to be pressed to light the flames. On the contrary, a wood fire pit requires the effort of building a fire. Once a larger wood fire is going, it can put off continuous heat for some time until a new log is needed. 
Installation 
Gas fire pits typically are harder to install. Since gas lines need to be run for the fire pit, it requires the use of a professional, and this also means it needs more time to be installed. Luckily, our gas logs are pretty straightforward to set up if you do decide you prefer gas over wood. While wood fire pits can be a DIY project, it is still recommended that a professional build your fire pit for safety reasons. 
However, even with the more complex installation of gas fire pits, they do not require the time you would spend stacking, ordering, seasoning, and carrying all of the wood needed throughout the year for a wood fire pit. Once the gas fire pit is installed, you do not have to do anything else but press a button to start it. 
The installation from professionals differs since a wood fire pit requires only a metal frame, brick or stone underneath, and a far enough distance away from the home or other flammable objects and structures. A gas fire pit has fewer rules to follow, but the gas lines that go to the fire pit have to be installed correctly and out of the way of those walking through the yard. 
Cost 
Another thing to keep in mind is cost. It is usually less expensive to buy, install, and operate a wood fire pit than a gas burning one. With a gas fire pit, you will always have pay for gas fuel to ignite your fire. However, for a wood fire pit, you could theoretically get wood or logs for free, if you are willing to put in a little extra work. 
Maintenance 
Wood fire pits are harder to maintain because they accumulate soot, ash, and wood scraps. This will need to be shoveled out from time to time. Creosote may be an issue with wood when it is burned since it is a tar substance that can leak harmful chemicals into the air. When breathed in, they are not good for the health of those nearby. Additionally, unclean wood fire pits can produce a fire if the embers are not put completely out. 
In comparison, a gas fire pit does not require much maintenance at all. Since it burns clean, with no logs or soot, there is nothing to clean out. The outside of the fire pit can be wiped down, and a cover can be placed over it for when it rains or snows. You will want to check the gas lines from time to time to make sure everything is running safely and smoothly and that the lines are not clogged or need cleaning. 
User Experience 
The experience that a user has with a wood fire pit is much different from that of gas. Gas fire pits do not leave smoky odors on clothes or hair when used. However, wood-burning fire pits have a distinct campfire smell and provide a natural experience with the sound of the logs crackling, which are two reasons why someone would choose wood over gas fire pits. This all just relates to personal preference and the type of ambiance you are trying to create in your outdoor space. 
Safety 
It is always important to have the gas system checked thoroughly for any leaks that might occur. If a leak happens, things can quickly get out of hand. To avoid this situation, keep the fire pit in the best shape and have routine maintenance performed on the gas lines. Wood-burning fire pits also have to be used with caution. Make sure that the fire is completely out each time. It should also be used away from any structures that can catch fire. 
Environmental Concerns 
Wood is a renewable resource that is ideal for the environment, but gas is the cleaner choice. The impact that wood has on the environment is not as good as gas, but this also means that the gas is cleaner and better for users to breathe in, especially those with asthma. The particles from the wood can cause problems for those with breathing issues. Gas fire pits are also always going to be more energy-efficient. Gas burns more cleanly and produces fewer emissions into the atmosphere than wood. 
Resale Value 
Both fire pits can increase the resale value of the home. Not only that, but they can make the home sell faster by providing homeowners with something that they want, without having install it later on. Gas fire pits, because they are more eco-friendly and cleaner, have a higher return on investment. However, wood fire pits provide a beautiful outdoorsy feel. Our fire pits are highly portable, though, so if you want to and are able to take your fire pit to your new home or offer it to a friend who would like one, you can easily do so. 
Permits 
Local ordinances may prohibit open burning within fire pits. Some areas have a burn ban that is in place at certain times of the year. This only covers fire pits that have open, wood-burning flames. Additionally, any fire should be placed away from any structures in the backyard. This must be done to reduce the chances of having a fire that does not stay inside the pit and becomes dangerous. Some areas or neighborhoods may require a permit to have any fire pit on the outside of the property. It is important to check your local laws.