Every family or homeowner has a dream set up for their backyard remodel or design. Some families yearn for a warm, sunny pool. Others fantasize about a large deck with plenty of space for grilling and sunbathing. Regardless of the size of your backyard, many homeowners have the same dream: a blazing fire pit. 
Fire pits are a great way to add a rustic, relaxing element to your backyard. Furniture, outdoor lighting, and elements, such as lattice walls and more substantial structures that radiate outward from your fire pit, ground your design and offer you room to be creative. 
Regardless of the season, fire pits serve as a social meeting location. You and your family can gather around the fire during the crisp autumn evenings, roast marshmallows, and tell ghost stories late into the night. On a hot summer day, fire pits allow you to finish off your favorite BBQ meal, while watching the kids splash around in the pool (or maybe going for a dip yourself). 
Are you ready to add a fire pit to your backyard to make it more inviting? A Google search for fire pit ideas on the internet can leave you unsure of where to start. Where do you begin with so many shapes, materials, designs, and construction methods to pick from? We have compiled a list of our top ready-to-build and ready-to-buy fire pit ideas for you, so you can spend less time browsing and more time around your new fire pit!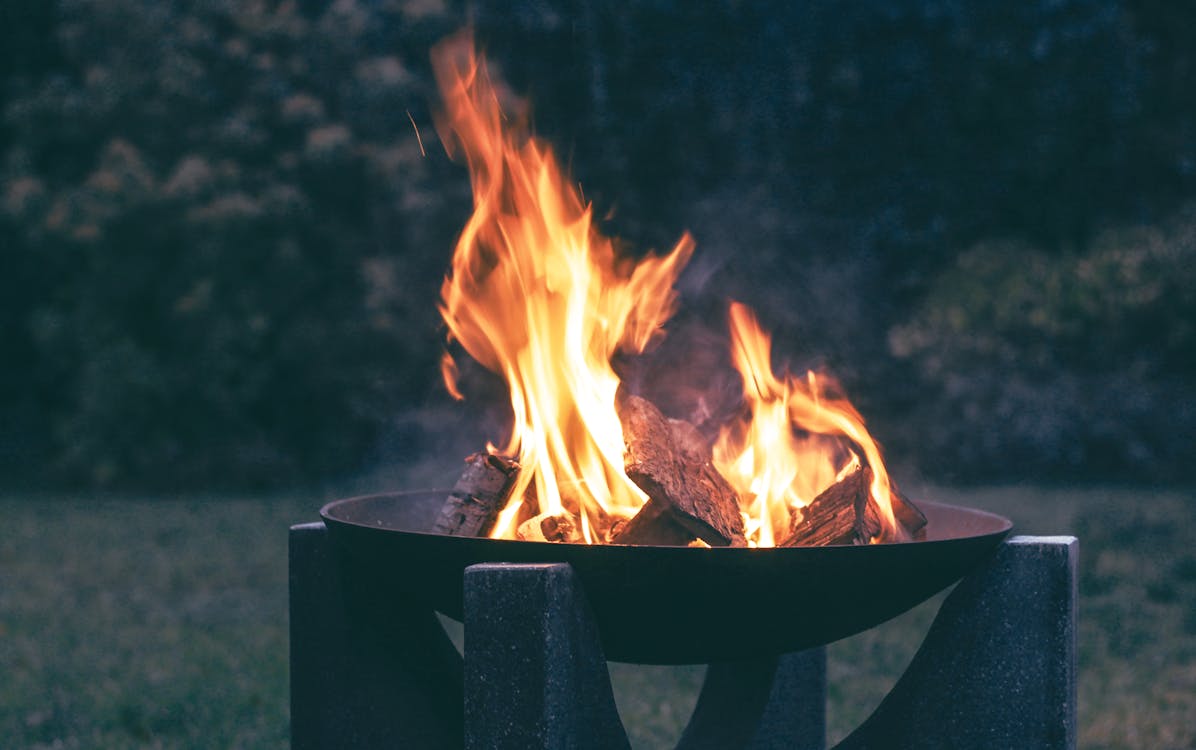 Building Your Own Fire Pit 
The creative options with a fire pit are practically infinite when you collect and install the materials yourself. You can create a fire pit from scratch in any area of the yard with some forethought, precision, and a lot of hard work. DIY projects need more time and effort, but they usually result in reduced expenses. 
Stone fire pits are one of the most cost-effective solutions for outdoor fire pits. Choose palletized stone for a consistent shape and size when placing your order. Determine the width of your fire pit area with a piece of rebar and twine. Make a big circle with spray paint. Excavate to a depth of roughly six inches in the place you want your pit to go. Make a second circle with the perimeter of your actual fire pit inside that circle. 
Pour premixed cement and allow it to dry in the region between the inner and outer rings. Lay the first round of fire bricks, the second and third rounds of fire bricks, and then carefully place your capstones before finishing your seating area, applying mortar as you go. 
For sleek, contemporary outdoor aesthetics, concrete fire elements are becoming increasingly popular. These can also be raised so that your s'mores station is level with your outstretched palm while you relax on a deep seat sofa. Square concrete fire pits have a lot of steps: first, build the interior and outer rings out of fir planks. To defend against the elements, add reinforcement and wire or mesh matting. 
Once you have finished the previous stage, pour your concrete to the top of the form. Once the concrete has dried, carefully remove the forms and apply finishing touches such as a smooth finish or a layer of slate on top of the concrete. Fill the center of your bowl halfway with gravel, and then secure it. Last but not least, fill the remaining space with beautiful rocks of your choice. 
In-ground Stone and Brick Fire Pit

 
In-ground fire pits fit in perfectly with your backyard's scenery. While this can be a safety concern if you have small children or pets, an in-ground fire pit can lend a touch of casual elegance to any outdoor space. Depending on where you get the components, a fire pit like this can be built for less than $100. 
To begin, dig a hole that is four feet deep and 12 feet in diameter, with the sides slanted out slightly. Fifteen liters of lava rocks should be used to fill the hole. Place the bricks vertically around the hole's rim, tilting them on their sides. In the circular area where you'll set up chairs and side tables, shovel sod away from the pit's edge. Cover the bricks with flat, ornamental stones around the pit's edge. You are now ready to build a fire by filling in the top region in and around the flat stones with earth. 
Fire Pit Ideas You Can Purchase 
Is it not possible to take on a new construction project by yourself? If you do not have the time, skills, or ambition to build a fire pit from the ground up, there are numerous varieties of gorgeous fire pits that you can buy for your backyard dependent on your budget. These alternatives can add a functioning fire pit to your outdoor entertainment options, while also elevating your aesthetic. 
Use the color palette of your existing patio furniture to determine the best shade for a basic, low-cost concrete basin fire pit. A freestanding bowl's floating look offers an unforgettable visual statement and embellishes circular patios and flat spaces. All you need to know before ordering your concrete basin is the color of your current chairs or the color you want to purchase. A simple approach for cohesion is homogeneous color, especially when contrasted with your dwelling or decking materials. 
A hanging cauldron fire pit and grill will impress any visitor, whether you have a modern home with clean lines or a rambling wood cabin. Steel cauldron fire pits have a tall triangular frame that supports a spherical cauldron that seems like it sprang from a smithy or forge and landed in your backyard. These cauldrons, especially the larger ones, can be expensive. However, the artistry is well worth the money for the right family and home. 
Propane-Powered Fire Pit Tables

 
Small standalone fire pit tables that are metalworked and powered by propane are becoming popular in many homes with limited yard space or with basic patios instead of traditional yards. These stylish, low-cost fire pit tables frequently have a side table that conceals the gas tank. These fire pit tables can cost as little as a couple hundred dollars, depending on the type of metal used and the craftsmanship. 
For the homeowner who wants the most low-maintenance fire pit option that is easy to set up and light, a fire pit table can be the perfect option. They can come in varying sizes to fit all sizes and layouts of backyard or patio space. Another very handy feature of a fire pit table is that, besides making sure your propane tank is full, you do not need to maintain the fire and can adjust it with a switch. 
With a little inspiration and a design that appeals to you, you can either craft a DIY fire pit or save time and money by ordering one that matches your outdoor concept. The entire family may gather around a fire pit table for meals, games, beverages, stories, s'mores, and countless new memories. After you have finished putting the finishing touches on your fire pit, determine what style of furniture best suits your unique location, whether you are furnishing a desert hideaway or a lake house.