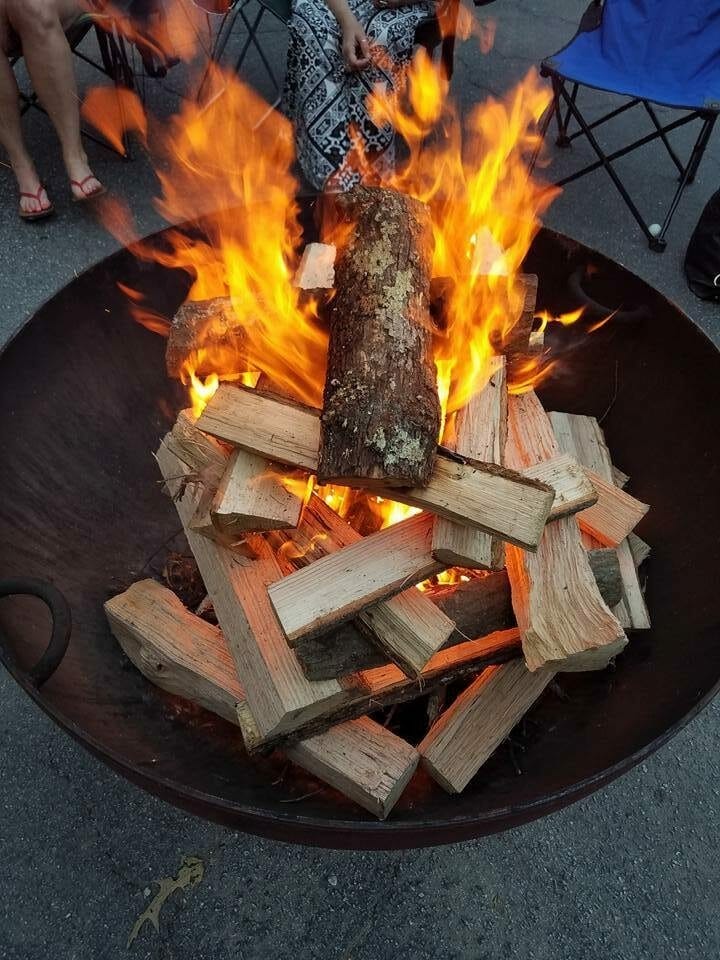 There's nothing that compares to the relaxing, mesmerizing ambiance of an outdoor fire. Whether you are camping deep in the forest or simply enjoying a peaceful evening on your patio, a fire is guaranteed to enhance your experience. But it's difficult to enjoy a fire when thick smoke is blowing in your face. While there's no way to fully prevent this from happening, there are ways to minimize smoke produced by a fire.
Use Dry Firewood
If you want to reduce smoke created by your fire, burn only dry firewood. We recommend kiln dried wood.  All firewood has at least some moisture — and that's okay. But if the wood is particularly damp, it will produce more smoke upon burning. This is why it's a good idea to store your firewood in a shed or covered area where it's protected from rain.
Avoid Green Wood
You can also minimize smoke production by avoiding green wood in your fires. The term "green wood" is somewhat confusing, however, as it doesn't necessarily refer to wood that's green in color. Rather, green wood is any type of wood that has been recently cut. When wood is first cut, it typically contains more moisture; thus, increasing its smoke. Allowing your wood to sit and season prevents this from happening, as the internal moisture evaporates into the air or purchase kiln dried firewood.
Don't Burn Debris
Don't toss leaves, grass clippings, pine straw or other debris into your fire, as this may encourage it to produce more smoke. Stick with good 'ol fashioned locally sourced firewood for your fires.
Allow Airflow
Another helpful tip to reduce campfire smoke is to arrange your firewood so it encourages greater airflow. This allows for more complete combustion, which subsequently reduces smoke. Fire needs three things to burn: oxygen, heat and fuel. And increasing the oxygen in your campfire makes it burn hotter and more complete. You can encourage greater airflow by building your campfire with kindling at the bottom in a teepee-like shape, and arranging firewood in a square shape around the kindling, what we call the Lincoln log style.
Of course, these tips aren't limited strictly to campfires; they also work for fire pits. Remember, though, all fires will produce at least some smoke. It's impossible to stop a fire from smoking altogether, but using the techniques listed above should keep it to a minimum.
If you have any questions regarding how an S&S Fire Pit can enhance your outdoor living space; We can help.  https://ssfirepits.com/contact/